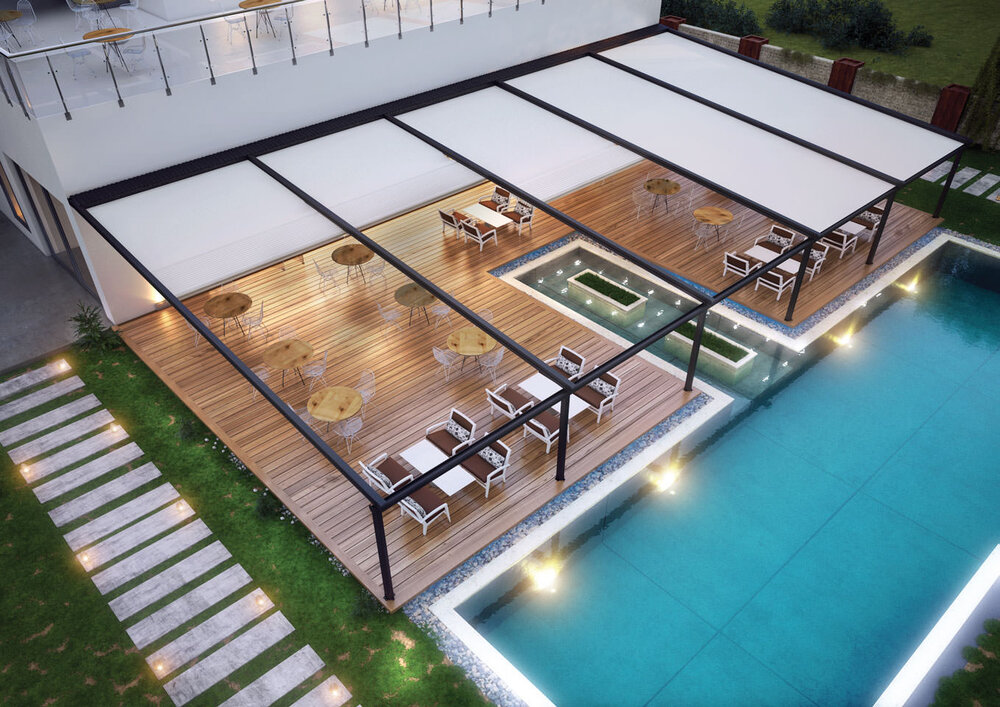 TECTONA
Teak (/tik/) (Tectona grandis) is a tropical hardwood species placed in the family Lamiaceae. Tectona grandis is a large, deciduous tree that occurs in mixed hardwood forests. It has small, fragrant white flowers and papery leaves that are often hairy on the lower surface. It is sometimes known as the "Burmese Teak". Therefore Tectona is our most premium retractable pergola system provides a stylish architectural covering as per the name was given via precious botanic plant.
This system has a wide range of uses from villas, cafes to restaurants, hotels & corporate chain stores, etc. With supported rafter system it provides a projection up to 12000mm. The power-saving LED lighting gives a nocturnal atmospheric ambience in the enclosed area. All aluminium profiles are powder coated and corrosion-resistant. The sound system provides effective sound coverage enhancing your guests' a unique experience. With optional and various glass coverings, you can relax in your set apart veranda with an improved energy-efficient zone.
Ideal for: Hotels, bars and premium leisure industry along with detached, semi-detached private houses.
Max width: 12000 mm
Max projection: 10000 mm
120 sqm Maximum Coverage on a Single System