GUILLOTINE GLAZING SYSTEM | B FLAT DARK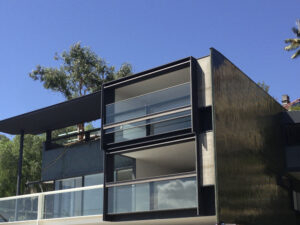 The Guillotine frame means there is no limit to the height which can be achieved, whilst retaining the same high quality and aesthetics as other versions. Perfectly balanced and motorised.
Anodised or coloured aluminium alloy structure, or thermolacquered version in an infinite choice of colours. Vertical bearing system in stainless steel or specially adapted for projects near the sea. Fixed or sliding, 4000 mm vertical profile width. High-precision counterweight operation for ultra-simple manageability.
System: Guillotine Glazing System
Material: Aluminium – Glass
Available Glazing Type(s): Laminated with PVB Interlay 4+4, 5+5, 6+6 mm Toughened and/or Tempered with choices of 8-10 mm can be as heat insulated glazing system
Available Profile Colour Options: Choice of Anodised Colours – Choice of RAL Colours
Available Glazing Choices: Double glazed, Triple glazed, Double glazed with Integrated Venetian Blinds Available
Aluminium Framework Choices: Heat insulated Aluminium Frame, Work Non-Heat Insulated Aluminium Frame Work
Max. Panel Width: 4000 mm
Max. Panel Height: 3000 mm