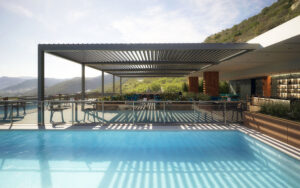 The highest quality and innovative outdoor rooms.
B-Cube Space is the model of the Bioclimatic Pergola that is mounted on a flat wall surface and supported by front carrier posts.
The application points of the product are pool edges, villa gardens, restaurants, cafes, and entertainment venues. The B Cube Space model is ideal for large enclosures. The lighting system surrounding the frame is designed so that both warm daylight and ambient lighting can be suitable.
Unlike the other B Cube products, these ones do not retract back but instead, they tilt to provide different levels of light through and allow shade.
Ideal for: Hotels, bars and premium leisure industry along with detached, semi-detached private houses.
Max width: 4000 / 4500 mm
Max projection: 9010 /8010 mm
36 sqm is the maximum usage area for a single system.